Regina Johnson

"I like the rewards program. It makes you feel like you're getting a little token back."
Regina Johnson
Brandon Cuaresma

"I love Alaska Park…I wouldn't park anywhere else."
Brandon Cuaresma
WELCOME TO ALASKA PARK
Simply better airport parking!
Located adjacent to Ted Stevens Anchorage International Airport, Alaska Park is safe, convenient parking dependably faster to the terminal than parking at the airport garage.
The vast majority of our customers are regulars. That means once you discover the peace of mind you get at Alaska Park, you'll never want to make that long, lonely walk through the airport garage again. And forget dragging your bags – we'll handle your luggage.
How it works
Simply pull into our covered, well-lit entrance, hand your keys to an attendant and step onto the waiting shuttle. Our attendants will take your luggage out of your vehicle and load it onto the shuttle.
When you come home, pick up your luggage, then use our app to signal the courtesy van to come pick you up. We'll pick you up at the airport and have your vehicle warmed up and waiting for you right where you dropped it off.
Fastest way to the airport – valet parking at your service
We handle your luggage
Safer, more convenient than our competitors
Perfect when traveling alone
Great if you have small children
24/7 security for your vehicle
Come home to a warm car
Earn points toward rewards and air miles with our Alaska Parks Perks program every time you park.
Discover the joys of valet airport parking – and never look back.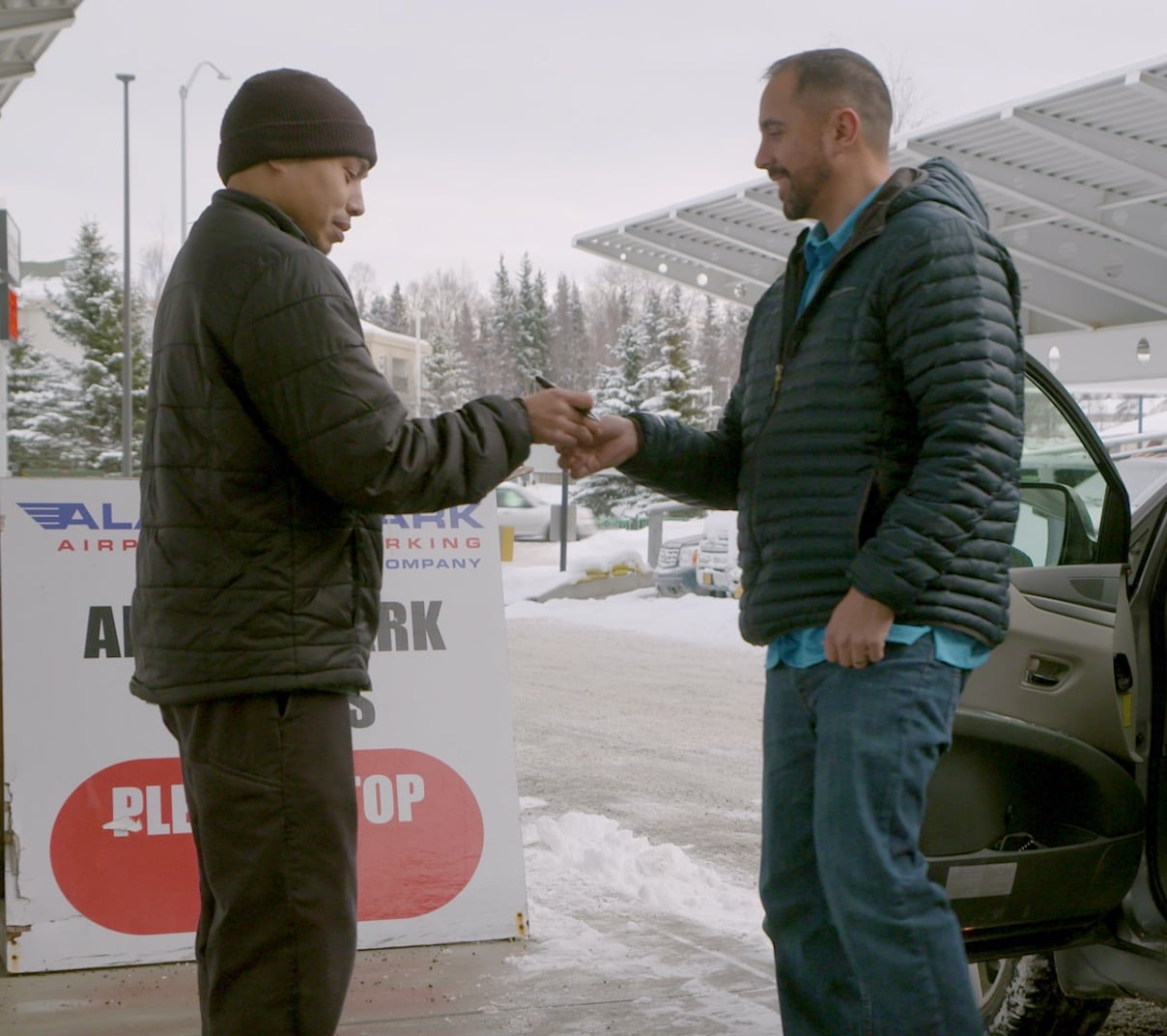 Our Location
Conveniently located next to Ted Stevens International Airport.
Alaska-Park
5000 Spenard Road
Anchorage, Alaska 99507
Valet Service
Simply drive into our Alaska-Park parking lot and pull under the covered drop off area. A friendly valet will help you with your luggage and park your car. Just leave your keys in the ignition, take your ticket, and hop onto one of our courtesy vans. It's that easy.
Secure Lot
Secured parking lots with 24-hour attendants mean you don't have to worry about your vehicle. Avoid the airport terminal traffic and parking hassles.
Upon Return
Once you claim your baggage, look on the back of your parking claim ticket for complete instructions to summon a shuttle.
Waiting & Ready
Your car will be ready and waiting for you when you reach our location. Simply present your ticket at the reception desk, settle your bill and you're off. Airport parking in Anchorage has never been easier. .